Lenné Winery and Tasting Room
The Lenné tasting room is where we greet guests, pour our wines, and host private events.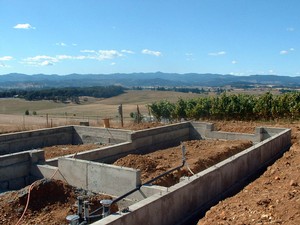 The structure was begun in 2005, built by our founder Steve Lutz as a long, narrow structure located at the southern edge of our vineyard. A patio to the south side provided most of our seating, and amazing views of the coastal range to the West.
The building doubled in size with an expansion in 2013, and over time we enlarged and roofed the main patio, added a rooftop deck on the expansion, roofing over the back woodfired pizza oven, a storage shed, and more.
After Lenne was bought by Eugene Labunsky in 2022, a major renovation was undertaken. This process remains underway, with a finish date target of March 2024.
The building itself is not being enlarged, but a major retaining wall was poured to create a far larger southern pavilion. The building walls are being entirely resurfaced, a great deal more windows are being added, the parking is being expanded, levels, and paved, a Lookout tower is being build atop the vineyard, and much more.
Please take a look at some schematics and blueprints in the photo gallery below, and follow the Lenné Instagram and Facebook to see regularly updates and photos of the ongoing process.
Photogallery rendered here.