Club Shares
Lenné Estate loves to take part in "club shares" where we partner with other fine tasting rooms in the Willamette Valley. We host their wine club members, they host ours, and everyone has a great time!

These events are available exclusively to active members of the wine clubs who take part, and they run an entire month to give members plenty of chances to get out and taste. To take part, swing by whichever winery you are a member of and pick up the printed event card. The card is your passport to ride; don't lose it! You'll need to present the card at the other wineries to receive your two complimentary tastings and a discount on your wine purchase.

There's even a contest! Make a bottle purchase at each winery and you'll earn a stamp over that wineries' logo. Score enough stamps and turn in your card at the end of the event and you'll be entered into a raffle drawing. Each time, 10-12 guests "win" the opportunity to purchase a three-pack of wine for just one penny.
The Winter Wander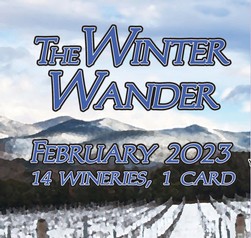 This club share debuted in February of 2018, and annually features 10-12 wineries located in the northern Willamette Valley. The 2024 Winter Wander is in the planning stages now, and we'll reveal full details and participants later in 2023.

Winter Wander 2023
The sixth annual Winter Wander ran from February 1 - March 5, 2023, extending a week due to bad weather in mid-February. We had 14 wineries take part, many of whom will return in 2024.
Chehalem Mountains AVA:
Arborbrook Wines
Cooper Mountain Vineyard
Tresori Vineyards.
Ribbon Ridge AVA:
Yamhill-Carlton AVA:
Anne Amie Vineyards.
Elk Cove Vineyards.
Fairsing Vineyard.
Gran Moraine.
Kramer Vineyard.
Lenné Estate.
Solena Estate.
Monksgate.
Saffron Fields Vineyards.
The Spring/Summer Share
This club share includes 10-12 wineries located throughout the Willamette Valley, and takes place in late Spring or early Summer. It debuted in 2018 and returned in 2019, but was put on hiatus during 2020 and 2021 due to Covid-19 closures and space limitations.

The 2019 Line-up: Blakeslee Estate, Coeur de Terre, Dobbes Family Estate, Elizabeth Chambers, Gran Moraine, Hyland Estates, Lenne Estate, Yamhill Valley Vineyard, Youngsberg Hill.

Club Shares
These club shares created and are organized by Lenné General Manager Eric Bruce. If you'd like more details about taking part in these events, either as an attendee or a hosting winery, drop him a line.