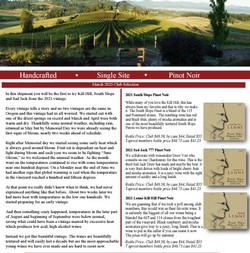 With the release of each allocation to our wine club, Lenné always prepares an informative newsletter in which we discuss the new releases and the vintage from which they stem, along with upcoming winery events and more.
Our pickup club receives 3 bottles of wine each quarter. The shipping club receives 6 bottles each Spring and Fall, with the option to customize with six more bottles earning a case discount and free shipping.
Here are the last few years of our wine club releases. All links are PDFs that will open in a new browser window.