Private Guided Vineyard Tours
September 2023: Private guided vineyard tours are available this summer while our tasting room remains closed for renovations. Please reach out to us for more details.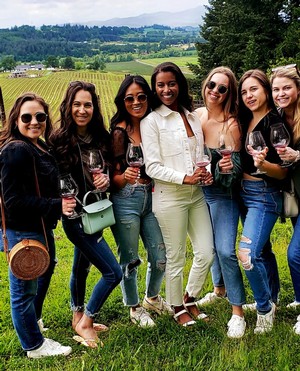 Join us for a guided tour of Lenne's beautiful vineyard!
Stroll through the rows, touch and sample the grapes, and soak in the view from the summit of our hillside vineyard. Sip specially-selected wines while walking through the vines, and see for yourself how our high elevation, southern orientation, and rocky soil combine to make Lenné an ideal place to grow spectacular Pinot Noir and Chardonnay.
All tours are guided by our Lead Wine Educator Eric Bruce. Your guide will stroll you through the vines and along the rows, pouring wines themed to exactly where you are in the vineayrd. See up close how vines are grafted and pruned, how trellising works, how we deal with vine and grape maturation, what goes into canopy management, the pros and cons of dry farming, weed and pest control, soil and rock samples, and much more.
We'd love to personally guide you through our vineyard.
We conduct (at most) one tour per day, generally beginning at 11am. Appointments are always required.
You'll be on your feet during the entire tour, and there is some uphill walking.
Total tour duration is around two hours: Sixty-ish minutes strolling through the vineyard, folllowed by additional wines paired with a gourmet charcuterie & cheese board back in the tasting room.
Practical shoes are recommended. You will be walking through a working vineyard over grass, dirt, and gravel.
Umbrellas are provided for rain or shade.
Photos are encouraged!
The tour fee is $85 per guest, (wine club member discounts apply). Each wine club join or six-bottle wine purchase will waive one tour fee. A credit card on file is required to finalize your tour reservations; there is no pre-charge, and the fee is fully-refundable if cancelled with at least 48 hours notice.
Tour availability is limited, and advanced reservations are always required, though we can often fit in small groups with limited advance notice.
Photogallery rendered here.