Lenné VINEYARD HISTORY
Lenné Estate was founded in 2000 by Steve and Karen Lutz. The property at that point was simply a weedy cow pasture on a steep hillside, with only one vineyard anywhere nearby, but Steve immediately knew it was the ideal Willamette Valley vineyard site he'd been searching for.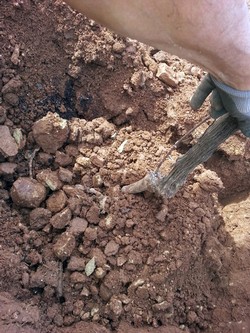 Lenné's terribly rocky soil.
Back in 2000 there were only about 100 vineyards in the entire Willamette Valley -- as of 2023 there are more than 1200. We were fortunate to get here early enough to secure an ideal vineyard site, and you'll taste the terroir in our wines.
The ideal pinot noir vineyard in Oregon requires several attributes. The elevation should be between 350-700 feet, the orientation needs to be south or southeast, the soil must be rocky and low in nutrients, and the hillside should have a steep slope for good drainage. We hit the jackpot on all those targets that at Lenné, and the wines from our mature vines show the proof.
The early days were another story, and our first years were endless struggles getting the dry-farmed vineyard established. A great many vines died nearly as soon as they were planted -- we don't call the upper eastern corner of the vineyard "Kill Hill" for nothing -- and the vines that survived grew very slowly. Our first harvest was in 2004 and it was tiny. Not until 2008 did we see enough fruit to make more than a couple of pinot noir blends.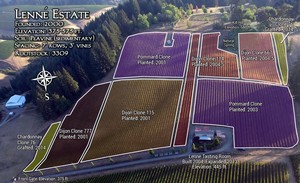 Click for an annotated vineyard map.
Like most of the vineyards in the Yamhill-Carlton AVA, Lenné's soil type is marine sedimentary rock, created twenty million years ago by undersea volcanic flows as the West Coast of North America was pushed up out of the Pacific Ocean by tectonic faults. More specifically, our soil type is "peavine," a gravelly mix type that's more rock than dirt, and which is rated the worst agriculture soil in the Willamette Valley.
Pinot noir vines push their roots down about a foot per year, and after 20+ years, ours are well-established. These tough vines can live through any summer drought or winter cold, and while our yield per acre is among the lowest in the region, the flavors are correspondingly rich and deep.
Photogallery rendered here.
2022 Sale and Transition
Steve Lutz acted as the proprietor and winemaker until 2022, when he sold the vineyard to a long time member of the Lenné wine club, Eugene Labunsky. Eugene's business partner and brother-in-law Jared Etzel is the new winemaker, and our head of tasting room operations is Eric Bruce.
See the Team Lenné page to learn all about our crew.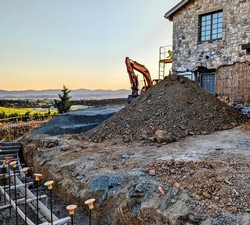 Lenne's new winemaker Jared Etzel grew up just around the way from Lenné Estate, on the Beaux Frères Vineyard, founded by his father Michael G. Etzel in 1985. Jared knew he wanted to be a winemaker from an early age, and his childhood on the vineyard imparted a strong sense of the importance of the land and the commitment to nature that is essential for premium winemaking. Jared is well known in the Willamette Valley as the co-founder and winemaker for the Domaine Roy & fils winery in the Dundee Hills, and he and Eugene are also the co-owners of the Rodeo Hills winery.
Jared Etzel's winemaking plans for Lenne are to continue in much the style Steve Lutz established over our first twenty years. Jared is committed to making small batches of pinot noir and Chardonnay sourced exclusively from Lenné Estate. His is a non-interventionist winemaking style that is dedicated to letting the terroir show through.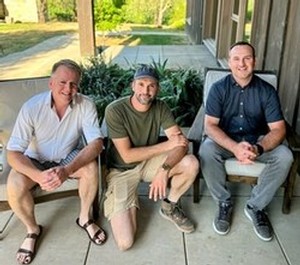 Eric, Jared, and Eugene
The 2023 vintage was Lenné's first as a fully-organic vineyard, and we will continue to practice the best farming techniques to grow the finest quality grapes, and the wines will continue to be bold and fruit-forward, since that's what our unique vineyard produces. We are building a winemaking facility on site, on our forested western hillside, to be able to completely manage our vineyard and winemaking right on site.
Our General Manager Eric Bruce joined Lenné in 2017 as the tasting room manager. Eric and Steve Lutz worked closely together over the years, and by 2022 Eric was serving as the Sales Manager & Hospitality Manager. The new owners hired him to stay on and run what was initially we going to be a whole new brand, but after the purchase of the Lenné brand in Spring 2023, we wee happily able to remain Lenné Estate.
GOODBYE FROM STEVE AND KAREN
Lenné's founders Steve and Karen Lutz will continue to host an annual Lenné Wine Cruise, and they would love for Lenné wine fans as well as our wine club méembers to join them for these amazing vacation experiences.
In April of 2000 we bought a bare hill near Yamhill, Oregon, with the hope and dream of planting a vineyard and making wine. Twenty-two years later we looked around and felt good about what we had accomplished, while realizing that retirement was looming.

In late 2022 we made the difficult decision to sell the property, and subsequently also sold the brand in early 2023, happy that the new owners, Eugene Labunsky and Jared Etzel, will keep the brand small and family owned. We're also glad that Eric Bruce, our long time tasting room manager, is staying on with the new owners and will be the General Manager of the property.

What a vintage to go out on: 2021. Along with the 2016 and 2019 vintages, the 2021 vintage is one of our favorites in the last ten years. We want to thank all of our friends, family, long time Lenné visitors, staff, and everyone else who made Lenné Estate such a wonderful success for us, and wish everyone the best going forward.