WInery and Tasting Room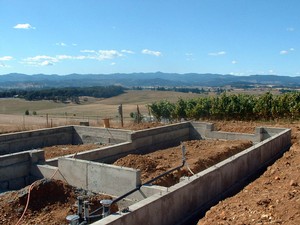 Winery foundation in 2005.
The Lenné winery and tasting room was begun in 2005, by winery founder Steve Lutz. The initial building was long and narrow, with just enough space for a tasting bar, and seating primarily on a patio to the south.
The building was doubled in size in 2013 with an expansion to the north, and over the years we added more patio seating, an overhead roof, a rooftop deck atop the expansion, a roof over the outdoor woodfired pizza oven, a gas fireplace inside, more parking and landscaping, and more.
See a slideshow of the vineyard and tasting room from the early days on our Vineyard page.
Big changes commenced in 2023 when Lenné was purchased by Eugene Labunsky, and a major renovation began.
A builder and designer by trade, Eugene had a grand vision to modernize and enlarge the facilities. The building footprint was not enlarged, but all the walls were strengthened to support many more windows, and the interior was gutted to open up the space. A huge retaining wall was poured around the southern edge, and once that was backfilled our yard/patio space was greatly enlarged, with a much larger roof overhead, all new glass walls, landscaping, and much more.
Please see some blueprints and schematics in the slideshow below, and follow our Instagram and Facebook feeds for regular photos and updates on the renovation. Our reopening date is set for March, 2024.
Photogallery rendered here.