The Winter Wander 2024
| | |
| --- | --- |
| Date: | Thu, Feb 1, 2024 - Thu, Feb 29, 2024 |
| Venue: | Lenné Estate Tasting Room |
The Winter Wander will return in February of 2024. Lenné will join ten other great wineries in a "club share" where each winery extends Wine Club membership benefits to all the members of all the other wine clubs. That means free tastings for two, plus wine purchase details , during the entire month of February 2024.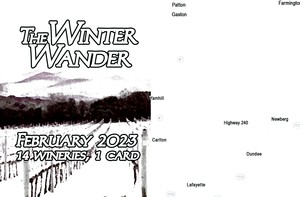 There's even a contest -- make a wine purchase at each location to earn a stamp over that winery's logo on the back of the card. Turn in your card after the event and we'll randomly select ten "winners" from all qualfied entries. Those ten people will "win" an opportunity to purchase a three bottle prize pack for one penny.
We will announce the participating wineries and more details as we get closer to the date of the event. There is no cost to partipate, beyond maintaining an active wine club membership with Lenné Estate.
The card images here are from 2023, just to provide an example. Participants and exact discount levels vary from year to year.